Neurofeedback music therapy
Neurofeedback music therapy is a new type of treatment that uses certain types of music to help focus and calm the brain. "Music has been shown to have many positive effects," said Mark Baldwin, professional musician and former patient. "Some people have experienced relief from anxiety, depression, and even addictions." Baldwin believes that music can be a powerful tool to help people heal from various mental health conditions. "If you're struggling with something, I urge you to give neurofeedback music therapy a try," he said. "It could make all the difference in your recovery."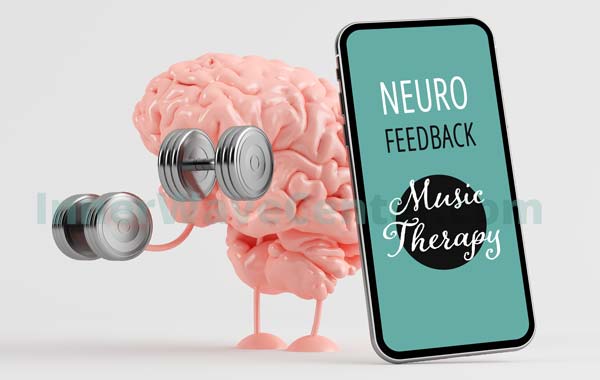 Music Therapy for Focus and Calm: How It Can Help You
If you're interested in learning more about neurofeedback music therapy, there are several ways to get started. One option is to find a therapist who specializes in the treatment. You can also attend a workshop or training session to learn how to use neurofeedback music therapy yourself. No matter how you choose to get started, it's important to remember that this type of therapy should be used in addition to other treatments, not instead of them. Neurofeedback music therapy can be a powerful tool to help you on your journey to mental health recovery.
You can use essential oils to enhance the benefit of your neurofeedback sessions. The diffusion of aromas has a beneficial effect on your brain. To lower stress levels, fight anxiety. But also to make your brain more receptive.
Scientific studies
A team of researchers from the Universitat Pompeu Fabra in Barcelona has studied the effectiveness of musical neurofeedback for the treatment of depression in the elderly. Researchers Rafael Ramirez, Manel Palencia-Lefler, Sergio Giraldo and Zacharias Vamvakousis claim a new approach to neurofeedback, which allows users to manipulate expressive parameters in musical performances using their emotional state.
In their study, the researchers present the results of a pilot clinical experiment applying the approach to alleviate depression in the elderly. Ten adults (9 women and 1 man, mean = 84, SD = 5.8) with normal hearing participated in the neurofeedback study consisting of 10 sessions (2 sessions per week) of 15 minutes each. The qEEG data were acquired using the Emotiv EPOC qEEG device.
In all sessions, subjects were asked to sit in a comfortable chair facing two speakers, close their eyes and not move during the experiment. Participants listened to pre-selected music tracks based on their musical preferences, and were encouraged to increase the volume and tempo of the tracks, depending on their levels of arousal and valence.
The neurofeedback system was set so that the increase in arousal, calculated as the ratio of beta/alpha activity in the frontal cortex, corresponded to the increase in loudness, and the increase in valence, calculated as the relative frontal alpha activity in the right versus left lobe, corresponded to the increase in tempo.
A pre- and post-hoc assessment of six participants was performed using the BDI depression test, showing an average improvement of 17.2% (1.3) in their BDI scores at the end of the study. In addition, an analysis of qEEG data collected from the participants showed a significant decrease in relative alpha activity in their left frontal lobe (p = 0.00008), which can be interpreted as an improvement in their depressive state.
Ramirez, R., Palencia-Lefler, M., Giraldo, S., & Vamvakousis, Z. (2015). Musical neurofeedback for treating depression in elderly people. Frontiers in neuroscience, 9, 354. https://doi.org/10.3389/fnins.2015.00354
Short-term efficacy and acceptability of brain music therapy (BMT)
During her keynote address at the 8th European Congress of Neurology in Amsterdam, Galina Mindlin, Assistant Professor of Psychiatry at the Icahn School of Medicine, Mount Sinai Health System, and Clinical/Executive Director of the Brain Music Treatment Center in New York City, presented the results of her research on a self-guided neurofeedback intervention for anxious insomniacs.
The purpose of this uncontrolled pilot study was to evaluate the short-term efficacy and acceptability of "brain music therapy" (BMT) as a self-guided neurofeedback intervention for anxious insomniacs. Methods: After a baseline assessment, volunteers with clinically significant insomnia and anxiety underwent qEEG Slow and fast wave brain patterns were converted to piano music notes and transferred to CDs. Participants were instructed to use their personalized CDs to facilitate sleep and anxiety reduction (relaxing track) or to stimulate concentration and alertness (activating track) on a daily basis. Repeated measures of sleep, anxiety, daytime functioning, and quality of life were taken.
As reported by the Clinical Director at Brain Music Treatment Center, the results provide preliminary support for TMB as a treatment for anxious insomnia. The intervention is easy to use, while eliminating the need for potentially dangerous hypnotics and repeated visits to psychotherapists.
Music therapy with neurofeedback in the palliative treatment of advanced cancer
Master's thesis in Sound and Music Informatics by Linda Bedrani, Universitat Pompeu Fabra in Barcelona.
Patients with advanced cancer in palliative care often use non-invasive forms of therapy to relieve pain and improve quality of life. To relieve pain and improve their quality of life. Patients benefit from both passive and active music therapy, which allows them to listen to or participate in playing their favorite music with a trained therapist. Music therapy and neurofeedback are combined. By using the patient's qEEG signals to change the musical parameters of a song, it is possible to test the effectiveness of the music therapy. The musical parameters of a song can be used to test the effect of neurofeedback and training on the patients' well-being and emotional state.
To test the effect of adding a relaxation session per training, seven music therapy sessions were organized: five sessions for the experimental group that received neurofeedback training, and two sessions for the control group that received passive music therapy without training.
Muse headband device was used to collect the qEEG data, and a live graphical interface was developed to display the patient's data. A live graphical interface was developed to display the patient's arousal level. Quantitative analysis using the recorded qEEG files was performed. To calculate arousal and valence levels throughout the sessions to reflect the patient's emotional state. Analysis of qualitative data from patient questionnaires and verbal feedback is used to determine the impact of the session. Contextual analysis of each individual session showed positive patient outcomes and feedback. Recorded qEEG data showed general trends of lower arousal levels in the experimental group, which participated in the training sessions, and higher valence levels in the control group, which received passive music therapy.
You can download this Master in pdf here.
What is the origin of brain music therapy?
Brain music therapy was developed in the early 1990s at the Moscow Medical Academy in Russia, the same place where iconic physiologist Dr. Ivan Pavlov laid the foundation for neurophysiology. Brain music therapy is a form of neurofeedback, biofeedback, which initially relied on classical and then operant conditioning.
As a result of long-term efforts by a group of neurophysiologists, clinicians and mathematicians led by Dr. Yakov Levin, a special technology was developed. It can transform a person's unique brain waves into piano music. This technology and treatment is known as BMT. The use of this brain music as a medical and behavioral treatment was first explored in Russia on medical students, insomnia and anxiety patients, athletes and executives. Double-blind studies showed a high efficacy rate of over 80%. The treatment was then extended to Europe and demonstrated the same effectiveness in independent studies. In 2005, BMT was introduced in the United States. More than 5,000 people have benefited from BMT, which is now available in 22 states.
Music for neurofeedback Deep Relaxation for Biofeedback Training and Brain Stimulation
Album Delta Waves Neurofeedback for Neurofeedback Music Therapy
Delta Waves Neurofeedback 6:11
Neurofeedback Music Therapy 6:23
Healing Hang Drum Music 5:34
Delta Waves to Help Sleep 5:48
White Noise Rain Healing 6:53
Meditation Frequencies 4:37
Biofeedback Music 6:16
Sleepy Moon 5:01
Rain & Harmony 5:26
Awaken Intuition 852 Hz 6:41
Music Therapy 5:41
Thunder Sounds for Sleep 5:16
Zheng Music 5:29
The Best Music for Stress Relief 6:44
Shamanic Meditation 5:33
Anxiety Relief 6:01
Neurofeedback Music 5:33
Deep Sleep BGM
Spotify's Playlist Music for Neurofeedback.
Click here for the playlist.